Brewsters Craft Umqombothi Beer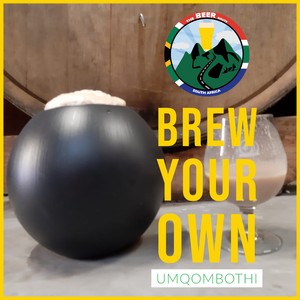 Umqombothi is a traditional beer made from Maize malt and sorghum – both items readily available off supermarket shelves. It is an important part of the Xhosa culture in South Africa.
The Vitals
Ferment Volume:
~15L
HERE'S WHAT YOU WILL NEED
About the process:
You need a food grade bucket for fermentation. It will take about 3 to 4 days to make. 
Ingredients:
Water: Finest water you can source. If you are using municipal water which has been chlorinated, you will have much better results if you are able to filter out the chlorine (using an active carbon / charcoal filter.) Boiling water for 20 minutes and allowing to cool will also remove chlorine. You will need 5 litres boiled water and 5 litres cold water. 
Malt Bill: This malt bill is nice and complex for layers of flavour and aroma. 
| | | |
| --- | --- | --- |
| Malt | Weight | Type |
| King Korn Sorghum | 2 Kg | NA |
| Maize Meal | 2 Kg | NA |
Yeast: 
Anchor Brewer's yeast. 
get in touch for suggestions on alternatives.

This email address is being protected from spambots. You need JavaScript enabled to view it.

Brewing Process:
Mix 1 kg King Korn Sorghum and 2 kg Maize Meal in a foodgrade bucket with 5 litres of boiling water.
Leave overnight at room temperature to sour - you can leave for longer for more intense flavour.
Boil the mixture for 1 hour and allow to cool. (Add water if it is too thick.)
After cooling add 1 kg King Korn Sorghum and mix with 5l cold water until you are happy with consistency. 
Add yeast and allow to ferment for 2 days at room temperature.
Sieve to remove spent grain and leave overnight before serving. 
Happy brewing. Go check out Brewsters Craft's page!